Ochraniacze bioder fińskiego producenta odzieży motocyklowej to rozwiązania wybierane przede wszystkim przez ludzi, których pasją jest turystyka motocyklowa, ceniących sobie wyjątkowy komfort i bezpieczeństwo jakie zapewniają produkty tej marki. Protektory wykonane są z opatentowanego materiału ochronnego łączącego najnowsze osiągnięcia w dziedzinie chemii oraz najwyższy kunszt inżynierii, gwarantują wydajną amortyzację oraz ochronę na najwyższym poziomie.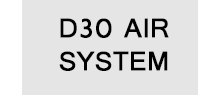 Oddychające protektory D3O zapewnią wysoki poziom bezpieczeństwa. Zalety tej technologii: wysoki poziom absorpcji energii, zaufana ochrona, maksimum elastyczności, wyjątkowo wygodne, certyfikowane według normy CE EN 1621-1:2012 (level 1). 
Jak działają protektory D30 Air:
Ochraniacze zawierają inteligentne molekuły, które swobodnie się poruszają. W momencie uderzenia blokują się aby pochłonąć energię uderzenia po czym natychmiast powracają do swojego pierwotnego stanu.
2 YEARS WARRANTY - Warranty is granted by the producer for a period of 60 months.
2 YEARS WARRANTY